IS YOUR MONEY STORY HOLDING YOU BACK?
I am so nervous to be sharing this story with you because there are parts of my money story that I am ashamed about but the power in the story is how I overcame them, the lessons learnt and my hope to inspire you to get real with your money story.
Money has not been my favourite thing to talk about but I have had to learn to love talking about money. Money mindset is one of the key pillars to look at when you starting out your side hustle and when you are taking to your main hustle.
This message for you is very close to my heart. It is a very personal story. It begins as a teen and realising that my parent's marriage wasn't perfect and what it came down to was financial worries impacting on our family and their relationship. My mum taught me great skills about saving and investing, so growing a savings account was something that began early for me at school. I would sacrifice buying goodies and going to the canteen so that my savings would grow.
What this eventuated to was extreme savings behaviour and extreme financial abuse. Mum was amazing at investments, shares and buying properties, she was very financially conscious. When I started earning a full-time income at the local grocery store she made sure I was aware of the future. So much so, that I bought my first property at 23 years old. Mum asked me to give her 10% of my earnings and then what happened was, at 21, she gave it all back to me.
FLIP SIDE
Now the flip side of this story is that my dad is not great with money. This is difficult for me to talk about. He is a gambling addict. It really breaks my heart that I can't help him. My mum has a massive heart to support him throughout their 35+ years of marriage, dad has been trying really hard too. Dad had been fighting his gambling addiction before I was even born. Many years ago, as a family, we experienced financial ruin. I learnt first hand how wealth could dissipate to nothing. All the security was gone and I swore it would never happen to me. I became scared of money and saved every penny that I could, I did nothing useful with it, I wouldn't even check the balance.
This defined many things about my perception of money and so evolved my money story.
I DID WHAT I SWORE I WOULD NEVER DO
The extremes of the two stories later came out in me. Whilst in a previous relationship I felt this deep void and guess what I did? I started spending all my savings. I booked luxury travel, flew business class to nowhere special, bought designer handbags, dined at the top restaurants and shared top dollar cocktails with my girlfriends. I was in the moment that this materialistic viewpoint would help me fill that void. This was the behaviour of my father. I was an extreme pendulum when it came to money.
...and then, my worst fear happened. I had to ask my mum for money. My 10-year relationship was over, I was out of control, I had just found out about dad's addiction and was completely devastated that I was doing something I had sworn never to do.
This experience is a part of me, this is a part that grounds me. In many ways, I am very grateful that this happened.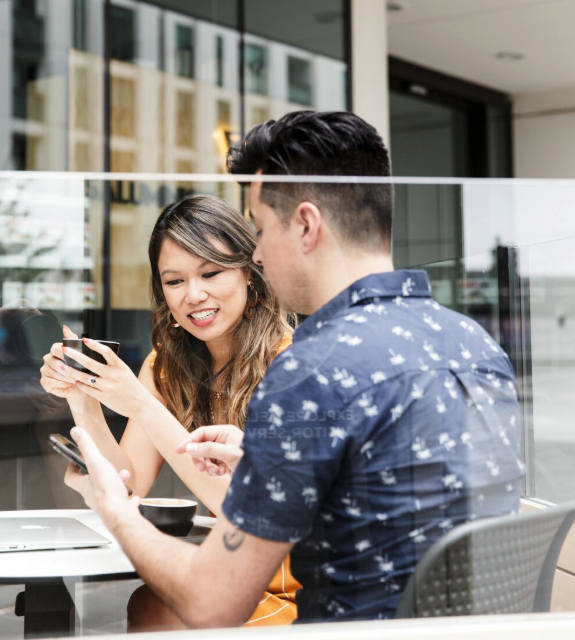 I FACED MY MONEY STORY AND MY MONEY BLOCKERS
BAD BEHAVIOUR
I acknowledge my behaviours. The behaviour of not wanting to spend money on my business, not wanting to invest in myself, not wanting to engage with a coach and spend that money, being cautious of my receipts when buying client coffees - the accountant in me. There was no way in this behaviour that I could create abundance in my life.
This lead to limiting beliefs around my pricing strategy of my side hustle. This is why it took me so long to take the leap to leave my corporate job. In financial hindsight, I could have left a whole year earlier. It made me sick to my gut that I didn't know how to spend money wisely so much that I handed over the finances to Michael. Even though I was making 6-figures in my side hustle over 3 days and 6-figures in my corporate job I did not want to look at the money. It went on the mortgage, term deposits and savings. I even had a $500 'treat me' account for girlfriend catch-ups, getting my nails done or dreaded clothes shopping. I would only spend that and not a cent more, if I didn't use it then it would sit there and accumulate. I don't even have a credit card, there is no way I could stomach knowing I owe someone money. I didn't even pay myself.
These are the behaviours that I have subconsciously absorbed and are my money foundations.
…MONEY IS JUST LIKE WATER
Money isn't meant to be stale. It is meant to be a healthy stream.
TRANSFORMATION
In the last 12-months, I have made an amazing money mindset transformation. I fully know that I have the incredible ability to make money. I know that I have always been extremely successful in quickly climbing the career ladder and financial ladder. Yes, I have the luck of being financially inept. But, you would be surprised to know that I do not enjoy having a lot of money. I don't know how to love it.
Through a lot of journalling, I had many breakthroughs about my money foundations and blockers. I wrote that money is just like water. It is a beautifully clear flowing stream. There are fish and rocks in there, it was so crisp and clear. But what I had created for myself was a rancid and stale rock pool. It was murky. It was definitely a deep rock pool but it was not giving life to anything. It was poisonous to drink and would give you a weird rash if you stepped in it! There was nothing that could organically grow in that rock pool.
So now, I can welcome the clear stream abundantly, intently and purposefully spend to reward myself, my family and my business. My family can have the lifestyle we have been dreaming of. We can fulfil our dream of chasing the summer - and we're actually doing that this year! That is the reason why we went online and started this business, that was our one goal and, we're doing it!
FACE YOUR MONEY FEARS
Your own personal transformation around your money behaviours does not mean you can go skydiving and jump out of the place and manifest that you don't die! No! You still need to have that parachute and tug on it and know that you will be fine.
If you don't grow and understand what your financial behaviours and beliefs are of money then how the hell are you supposed to build your business, how on earth do you know how to spend & invest in yourself, how will you know how to price your business with clarity?!
This is what I am ok with and what I am welcoming in:
Money is not my measure. It is the ability for me to have choice. To get out there to the world and share my message.

Money isn't meant to be stale it is meant to be a healthy stream.

Money is energy and I have every power to change how I treat it, love it, hate it or nurture it. I choose to nurture it. I choose to use it in a way where it is full of power from changing how I treat it.
I hope that is message was what you needed to hear to break through to your own story. I hope that this empowers you to face your own money fears and break down your money blockers that are stopping you from investing in yourself and your business and your family. I want for you to acknowledge what is stopping you from growing a healthy, happy and abundant hustle.
If my story has inspired you then please message me on Insta and let me know, you have no idea how much your stories give me energy - let me know what your money blockers are - let's smash them down!
(If you know someone with an addiction and you feel like you can't help them, make sure you get someone who can listen to you and support you through it x)
Uncover and clear limiting beliefs & money story?
Track your abundance utilising practical tools & systems?
Use self worth principles enabling you to sell with ease?
Price your services and deal with price objections?