TAKING THE SIDE HUSTLE TO MAIN HUSTLE LEAP: MY UNTOLD STORY
WHERE IT ALL BEGAN
As of this month, I'm 10 months into taking the leap from employed life into life as a full-time entrepreneur. I did this after side hustling from 2015-2018 and in those three and a half years everything changed.
That's the thing about being a side hustler. One day you think, maybe I should start that blog and before you know it everything begins to shift. Your mindset, your priorities, your self-worth beliefs and of course what shifts the most is that knowing your future is so much brighter because of your side hustle. One day your youtube feed is full of makeup tutorials, hair tutorials and movie reviews and the next it's filled with how to set up your online business, motivational talks by Gary Vee, Tony Robbins and Mindvalley.
I started a Wordpress blog and built the page myself - googling html codes, how to add pictures, how to create a better SEO response and wrote blogs each week. Week after week I began to work out ways to expand time. Using my 30 min commute on the train I started to learn, write, create rather than scan, scroll and stare out to the world wishing life was different.
FROM GIVING AWAY FREE SHIT TO DECIDING TO MONETISE
In the three years I spent side hustling I went from doing shit for free to swapping services to charging $50 to charging $1,500 per client. In those years I taught myself how to secure career coaching clients and more importantly how to delight them. When my clients started to see huge results so did I. More and more of my clients began to refer me on and within 3 years it I had brought in $100,000 from my humble side hustle (more on this later).
There were two key reasons for this:
I had made a decision that financially it was now or never. We had been good with our money, investments were sound and we made wise decisions with how money was to work for us rather than us having to work for money. Sure we weren't rolling in the dough but if it wasn't now, when was it going to be? Also, achieving $100,000 of income from the side hustle was also an incredible validation.

The other reason? I became so obsessed with my side hustle that I just wanted to live that life all the time. I dreamt about it, I would spend any net time I had including lunch breaks and travel time to dive into my happy place. It was time.
I knew deep down that if I wanted to really make a go of this, I had to get out of the hobby mentality and start treating my passion as a business.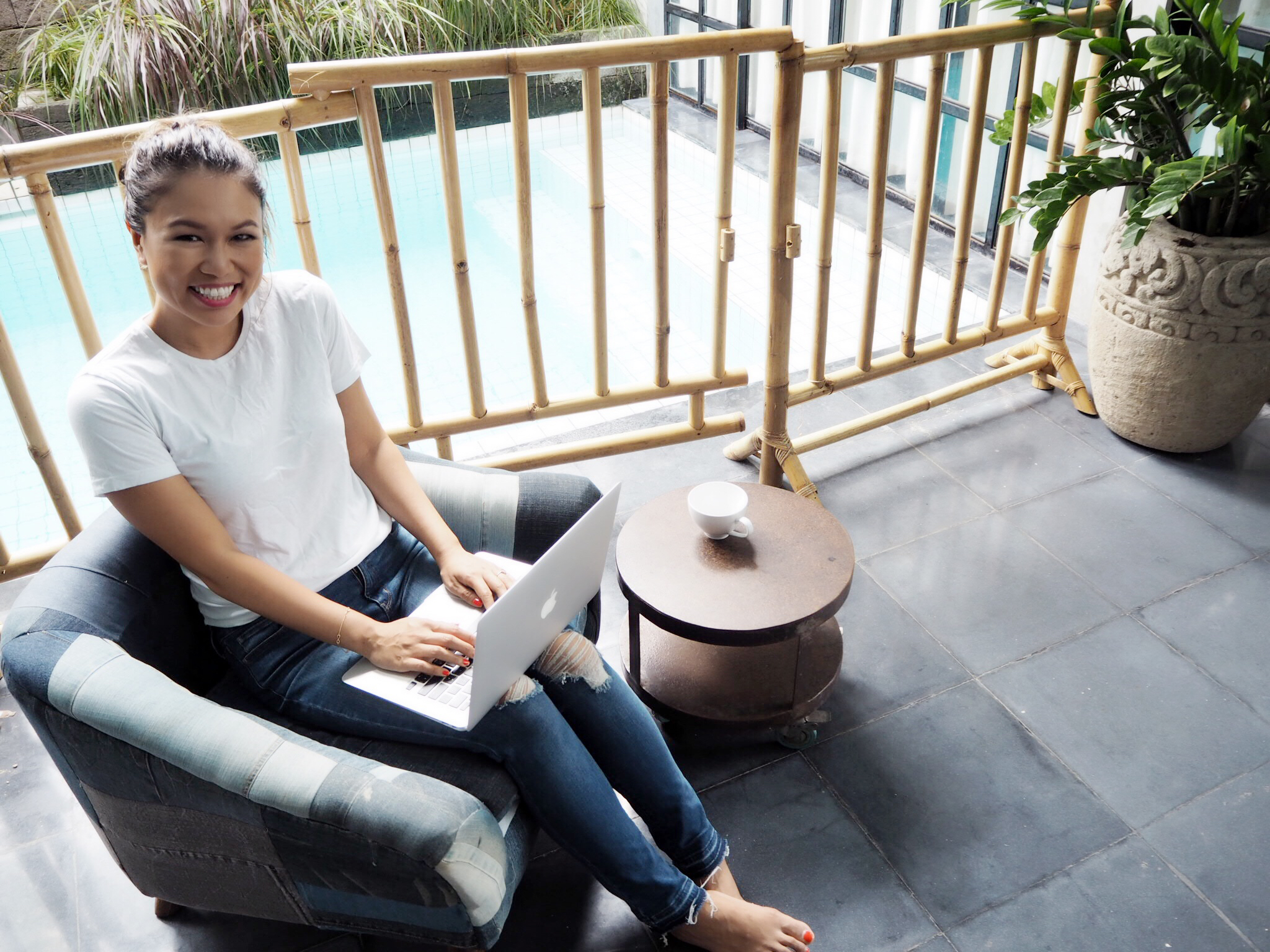 It wasn't until a trip to Bali in 2017…
…that I decided it was time to take the leap - actual moment captured <<<
As a family we booked 2 weeks away but it was a vacation of a different kind. We had attached a purpose to this trip and wanted to 'Act As If' we were already living a life of travel, hustle, freedom, choice and a full drunken love of life. We hired a cook, a nanny, a driver, a private villa and used the time we had together to plan out our online business. I was ready and I had decided at the end of the 2 weeks that I'd resign from my executive recruiter role at a tech startup company and go all in with my hustle. My husband was to run all the tech platforms, the content repurpose strategy, the paid traffic strategy, the accounting and the hiring of staff. I would take centre stage and being sharing my message unapologetically, I would run all of our socials, sell, market, coach and create courses. We had created boundaries around our roles and off we went!
RESIGNING WITH TEARS
When I came back to work I mustered up the guts to quit my job. I loved my job. It wasn't one of those 'screw you employer! I'm leaving' situations. It was a messy, sobby, teary affair. I was bawling my eyes out because I knew how good they had been to me and all the love and support they showered me with was second to none. My work besties were ready to message me on slack keeping an eye on the meeting room and both swept me into the ladies toilets after with chocolates, coffee, hugs and so much more love to support this massive decision of mine. God, have I done the right thing? I asked them… "Fuck yes Rubes, there's actually no other path for you, can't you see?"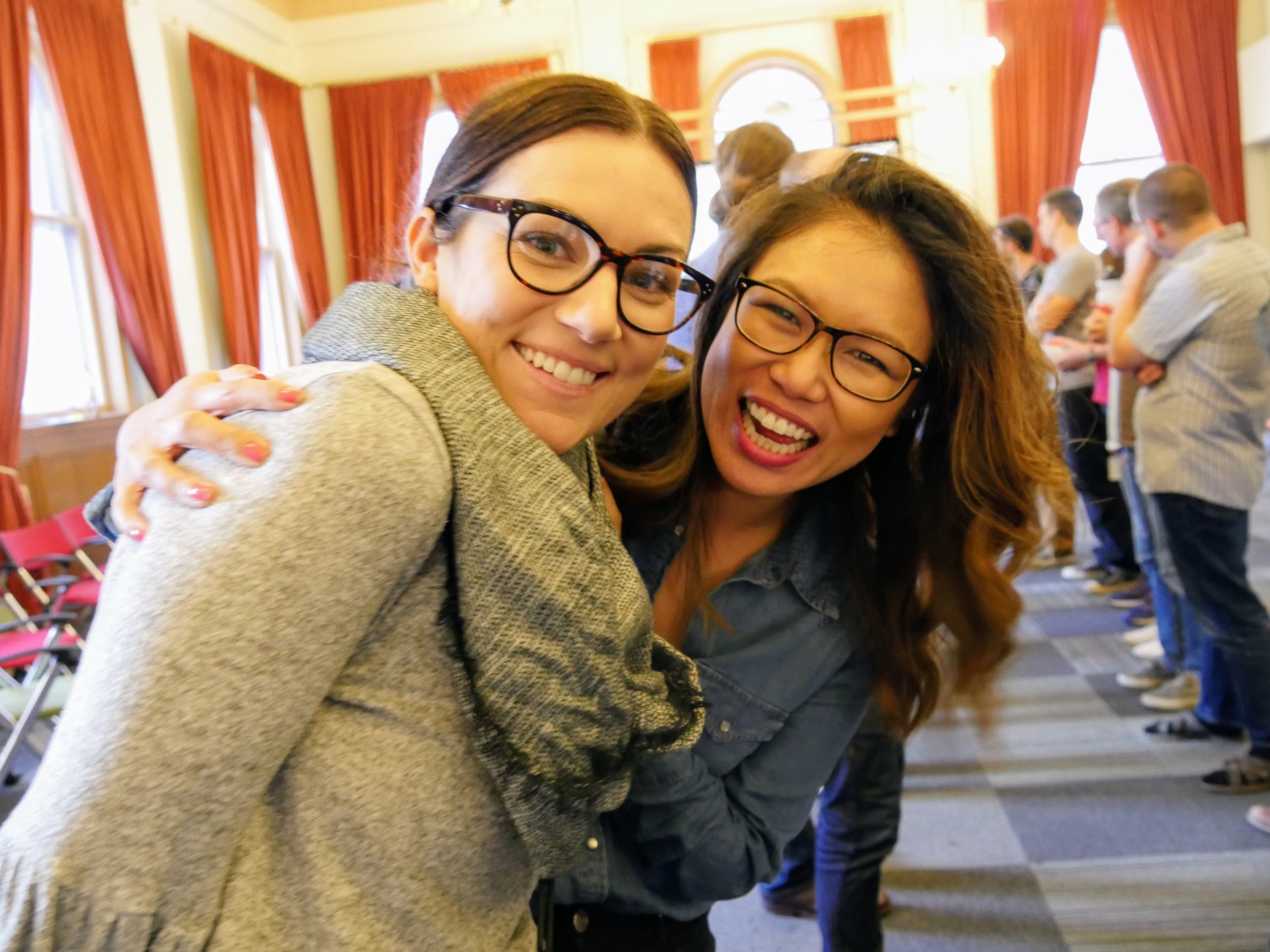 My work besties were my greatest support
"Rubes, there's actually no other path for you, can't you see?"
When all the news had been shared and reality settled in, I was asked to give 3 months notice to my employer. Being the only recruiter at my company I was also in charge of re-recruiting my role and to make sure the handover was seamless. SO, whilst I may have felt so ready to leap, I knew this time was a gift from the universe so we could plan and still have 90 days of consistent income flow.
CHANGE HAPPENS AT ALL LEVELS
Somewhere in here we also decided to up level our whole life and move to the inner city. We wanted this so we could feel into the true hustle and thriving energy of the CBD. We made the bold decision to sell our primary home and rent a gorgeous apartment by the water. All the doors flew open. The house sold for more than what we had expected it to AND the dream apartment we talked about became available at just the right time and without competition (we've been living here 12 months now and it's been incredible).
Just adding this in here because change happens at all levels - so just be ready for this!
THEN THE WIND CHANGED
Just before I was to leave employed life forever, I'm talking weeks before my last contracted day something happened. I was called to completely change direction of our business. WAIT. WHAT? I know right? I was deep into the career coaching scene and it seemed ridiculous to shift the entire direction of my business. I had existing clients ready to follow me on my online transition (up to this point my clients were mostly all in person and Aussie based).
But here's exactly what happened in a span of 3 full business days:
Almost every conversation I had was about side hustles ('wow, big news Rubes, you're quitting? how did you side hustle for so long, how did you do it, did you balance it well with work/ kids/ marriage, how did you niche, how did you monetise? etc')

I was asked to be on podcasts and interviews all about how I side hustled

I was invited to speak on a panel about side hustles

I felt so alive talking about side hustles and LOVED these conversations

I signed a client who get this, didn't want career coaching but wanted side hustle coaching!

I had such a vivid dream about speaking on a world stage about how side hustles are the future of work and the applause was so loud it woke me from my sleep at 3am in the morning and I had to journal it out
The next day after this dream, I told my husband about my gut feeling that we should switch it up and focus on coaching side hustlers. With weeks to go before we were 'on our own financially' he said to me with bright knowing eyes - 'I've been thinking the SAME THING!' And just like that, RubyLee.co, the soul-led side hustle community was born!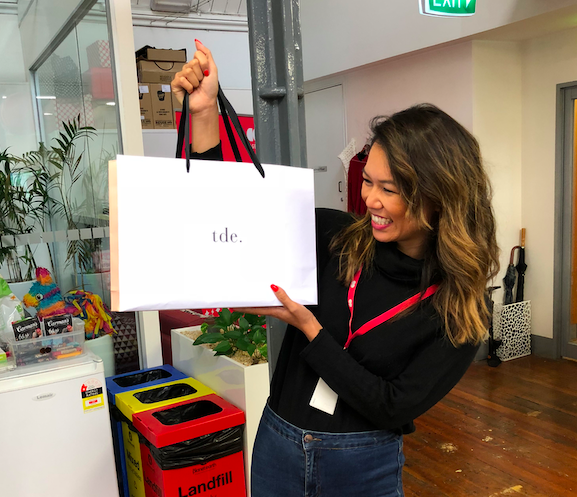 This was my
last day at my 9-5
Closing off an end of an era. And yep! You guessed it - I was gifted journals from The Daily Edited x
On 22nd March 2018 I left employed life forever.
On March 23rd, I set up our facebook group, started an instagram page, put an online offer out there for side hustle coaching, jumped on my first facebook live, jumped on my first Instagram live, started making daily Linkedin videos focusing deeply on side hustles.
In the meantime, Mike began to work out what platforms we needed, testing a few that suited our business model (which even 12 months ago was quite different to what it looks like now), mapped out our future roadmap, basically scrapped our old funnels and created new ones - it was a blank canvas.
Somehow amongst all of this hustle we created courses, masterclasses, coaching offers and the speaking requests started to flow in with ease and grace. Within 6 weeks of doing all the things, we hit our first 5-figure month.
BE PREPARED, BE POSITIVE
NOW I'm not saying this wasn't done without the tears, the money fears, the anxiety, the self-worth/ self-love issues, the limiting bullshit beliefs, the debilitating self doubt that would wash over me and paralyse my ability to speak some days. But the thing was, I did it anyway.
I'm also not saying that with each day it gets easier. Sorry my loves it doesn't always work that way. Each day I look at myself in the mirror and pump myself up. Each day I dive into journalling and mediation to protect my energy and mindset. Each day I feel like I have no fucking idea what I'm doing - LOL. But what's changed in 10 months is I am so stronger, more determined, more powerful, more aligned to my most authentic life.
If you're thinking about taking the leap, know that everyone's journey is different. Everyone's reason the leap is unique. Everyone has a different code to success. But what remains true is when you know, you just know. If you ignore the call it'll only get louder. Go before you're ready but when you do - you'll realise that you had wings to fly all along.
I tell the story here in episode 60 of the OYH Podcast (if you're more of the audio type)
THERE'S SUPPORT EVERYWHERE
If you feel alone in this know that you don't have to be.
Look around for a community like the OYH Facebook group, jump onto my Insta page and DM me.
PS. Group Coaching 2019 begins on Feb 4th 2019! I can't wait to get started with this brand new group of side hustlers ready to go big and say yes to a brand new chapter in their career. Click here to find out more and to register.